eFlow offers both personal and business customers the option of registering their vehicle(s) for tolling purposes using either a tag (for use on all toll roads in Ireland, including the M50) or Video Tolling (for use on the M50 only), with two convenient payment options: pre pay and post pay.
eFlow Tag or Video Tolling
Having an eFlow tag assigned to your vehicle makes for hassle-free journeys across Ireland
Wherever you drive in the Republic of Ireland, from the Dublin Tunnel to the N8 Fermoy Bypass and beyond, an eFlow tag in your vehicle ensures rapid passage through express lanes at all toll booths.
With a tag, you'll also enjoy a €1.20 discount on every M50 journey you make, and with pre pay and post pay options, you won't have to make a penalty payment ever again.
With a low-cost monthly administration fee of €1.00 + VAT per tag, an eFlow tag allows hassle-free journeys on the following listed toll roads in Ireland:
M50 Barrier-Free Toll
M3 (Clonee – Kells)
M4 (Kilcock – Enfield – Kinnegad)
N6 (Galway – Ballinasloe)
N8 (Rathcormac – Fermoy Bypass)
Limerick Tunnel
Tom Clarke Bridge
Dublin Tunnel
M1 (Drogheda)
M7/M8 (Portlaoise)
N25 (Waterford)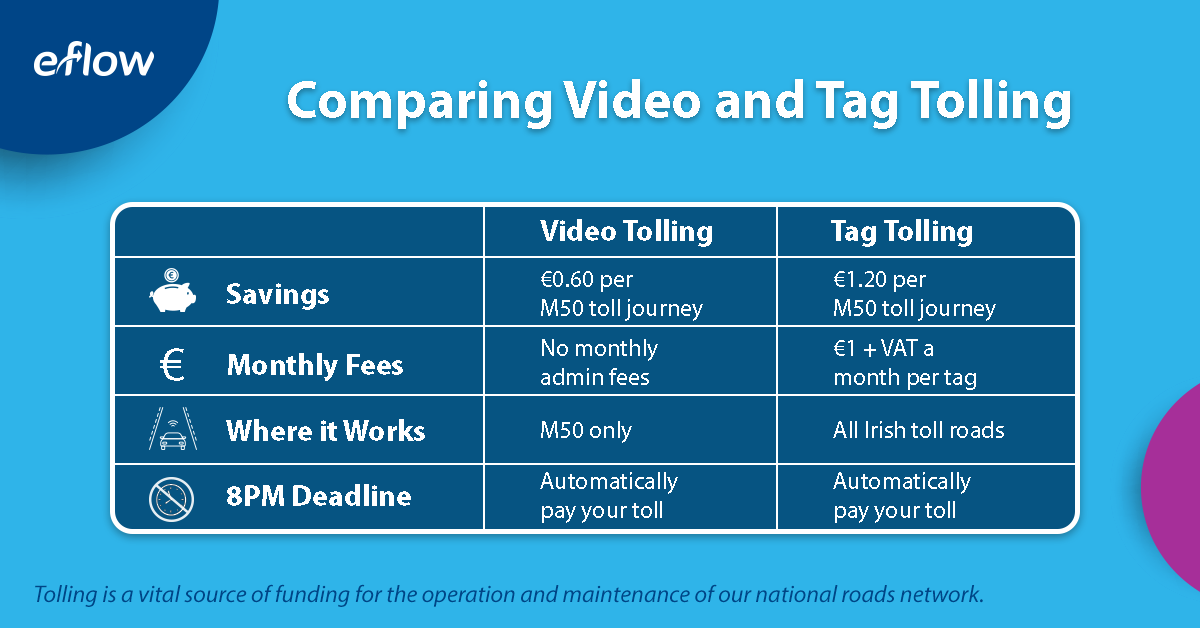 Choosing M50 Video Tolling
Whether you're a frequent user of the M50 or not, it can be easy to forget about the next-day payment deadline until the penalty letters arrive. But with the M50 Video Tolling payment method, you'll never have to worry about missing a payment again!
With toll charges payable on a pre pay or post pay basis, occasional and frequent M50 users alike are freed from paying their toll before 8pm the next day and save €0.60 per journey.
With M50 Video Tolling, there's no monthly administration charge.
Being an eFlow customer means you'll be able to pay your tolls in a way that suits you. Best of all, our online account management tools give you the power to change your payment details and options and view your transaction history and statements whenever you wish.
Post Pay customers pay their toll charges in one monthly lump sum.
If you opt to become a post pay customer, you'll receive your statement for your previous month's toll journeys at the beginning of each month.
Pre Pay customers pay their toll charges before they drive.
As a pre pay customer, we'll automatically take a payment from your eFlow account credit each time you pass through a toll point. When you reach the low-balance threshold of €12.00, we'll top up your account via your chosen payment method and top-up amount (between €30 and €250) so you're never in the red.
Your business can save both time and money with an eFlow business account, whether it's through use of express lanes countrywide, reduced M50 tolls, freedom from next-day payment deadlines or the nuisance of paying with coins or card at the toll.
Whatever the hour or time of year, you and your selected account administrators will have full access to your business account online, allowing you to keep track of your vehicles' journeys. You'll also have the ability to edit and update all of your payment details, and much more.
eFlow gives you the ability to manage one tolling account for all of your vehicles with complete efficiency.
As a Visitor to Ireland with your own vehicle you can now open a visitor account and have M50 Video Tolling assigned to your vehicle. You will select a start and end date for the duration of your stay and your account will be automatically closed on your chosen date. Your tolls will be automatically deducted for the M50 so there is no need to worry about having to pay by the 8:00pm deadline the following day.
You can choose between Credit Card, Debit Card or Digital Wallet as your payment method on your Visitor account.