Clooney National School crowned winners of Engineers Ireland's STEPS Young Engineers Award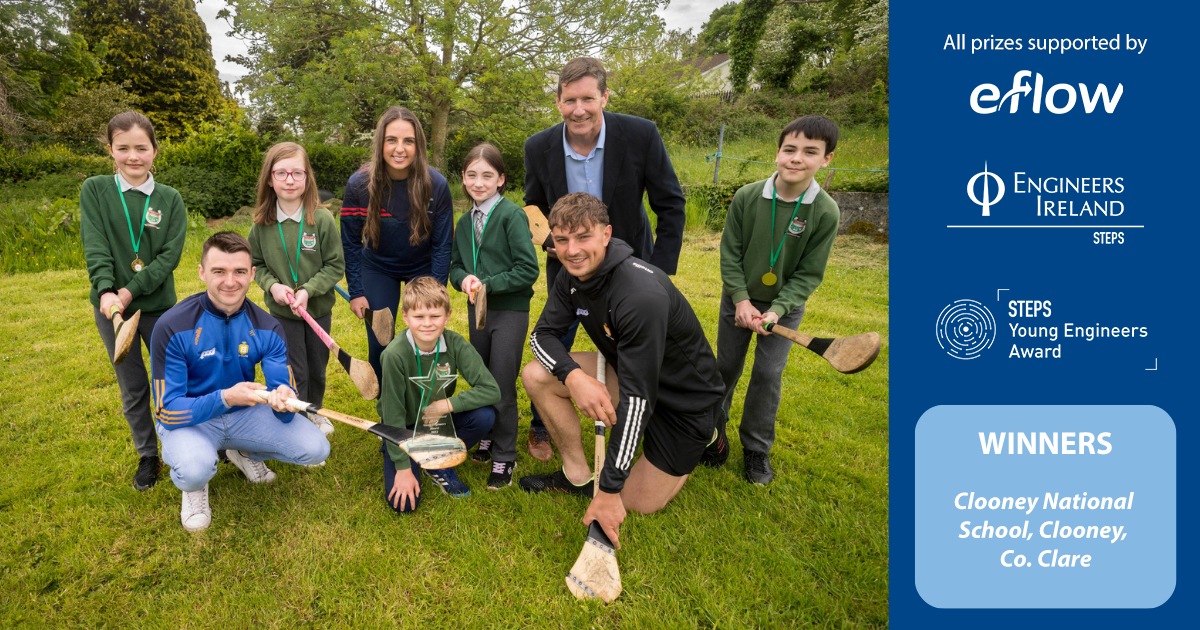 The winner of this year's STEPS Young Engineers Award is Clooney National School, Clooney, Co. Clare. eFlow has proudly supported all the prizes for the winning teams. This programme is an inclusive primary school competition held across the country, designed to inspire third- and fourth-class students and their teachers to delve into the realm of engineering. Participants are encouraged to create an engineering project that addresses a specific challenge within their local community, aiming to make a positive impact.
A total of eight prizes were awarded in this competition, winner, runners-up and highly commended for the rest, all happily supported by eFlow. Members of each team received a trophy, medals and certificates. The prizes for the winning team included an educational mini robot and having a STEM performer come to their school to host a STEM show for the awarded team and their classmates. The runners-up and highly commended teams were also awarded educational Lego kits.
Clooney National School students encountered tough competition from 116 class groups throughout Ireland. An impressive total of nearly 600 projects were submitted, showcasing the enthusiasm and dedication of young engineers from all corners of the country.
Developed by the winning team, Clooney Crackers, the Ash Antibiotic invention is a prototype robot designed specifically to identify and combat the Ash dieback disease. Developed with the dual purpose of preserving local wildlife in Clare and supporting hurling manufacturing in the county, this innovative project showcases the students' commitment to their community. The students ingeniously constructed a spherical robot using materials like cardboard and paper mâché, equipping it with a functional motor. Through this impressive creation, they demonstrated the immense potential of their invention—a robot capable of traversing to infected trees and administering liquid medicine to aid in curing the disease.
Apart from the winning team, St. Oliver's National School, Drogheda, Co. Louth were announced as runners-up in the competition and six other teams from schools nationwide received highly commended status at the virtual awards ceremony on Engineers Ireland's website and YouTube Channel. The STEPS Young Engineers Awards ceremony premiered on Friday, 19 May, 2023. Watch the Award Ceremony here.
Rory Deegan, Marketing Communications Director with eFlow, said: "We're very happy to support and promote the STEPS Young Engineers Award. Encouraging young people to engage with science, technology, engineering and mathematics at a young age is critical for advancement at a local and national level in Ireland."
Praising this year's entrants to the STEPS Young Engineers Award, Damien Owens, Director General of Engineers Ireland, said: "I would like to congratulate all of the third and fourth-class pupils, teachers and volunteers who participated in this year's STEPS Young Engineers Award. We were so pleased to see such engineering innovation and creativity in the projects entered into this year's competition. There was also a significant focus on sustainability and creating engineering solutions to protect and enhance our environment and local communities. I hope that each student who participated in the STEPS Young Engineers Award thoroughly will be encouraged to continue their exploration of the exciting world of engineering into the future."